24-Hour Heating Service by Washington's Preferred Heating Contractor
call to schedule an appointment today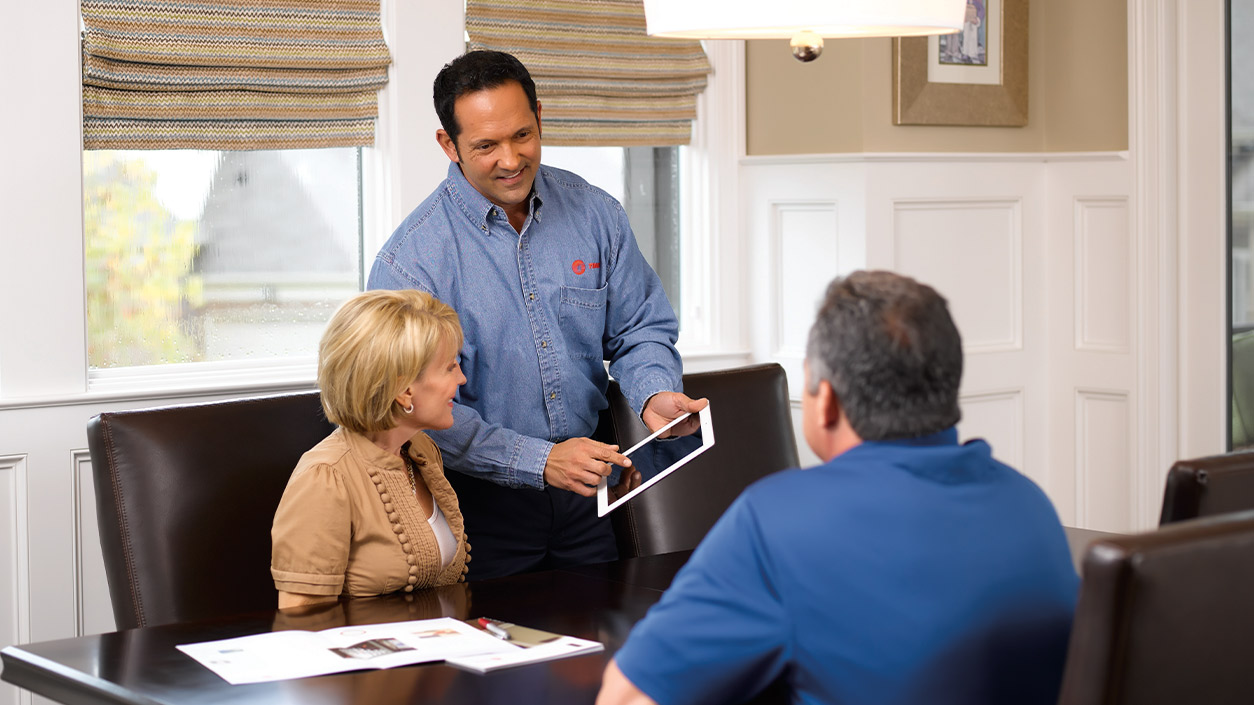 During the coldest days of the year in Washington, McMurray, Canonsburg, PA, and the surrounding areas, you want to be assured that your home will always be warm and cozy. Bruno Plumbing & Heating is your trusted heating contractor, bringing years of experience, technical know-how, and dedication to our customers.
Heating System Installations
If you need a new heating system, our licensed technicians install boilers, furnaces, heat pumps, and ductless systems from Trane. Whether you're building a new home or replacing an existing system, we offer a selection of energy-efficient products that save on utilities without loss of comfort. We provide free estimates for new installations.
We start the process of a new installation with a detailed calculation of your home's heating load requirements to make sure your new unit is properly sized. We'll discuss the types of systems available and help you determine which one will work with your budget and lifestyle. We also install advanced controls and thermostats, including wireless and smart devices. When used properly, these devices can reduce the energy the system uses by 10% or more.
Heating Repairs
At Bruno Plumbing & Heating, we take your comfort seriously. That's why we respond quickly to calls for heating repair issues. We strive for same-day service to restore comfort and make sure your heating system is safe to operate. Keeping our trucks well-stocked with high-quality parts means you don't have to wait for parts to be ordered and an additional service call.
When we come for heating repairs, we listen carefully to your description of the problem. Next, we examine the entire system to make sure we identify the problem the first time. Of course, we'll explain what we find and discuss repair options with you so that you understand what is needed and why. We work on all brands and models of heating equipment, including gas-fueled models, ductless units, and hybrid heating systems.
Heating Maintenance
Preventive maintenance is one of the best ways to make sure your HVAC system stays in tip-top shape. Maintenance improves energy-efficiency, greatly reduces the likelihood of breakdowns, and extends the service life of the unit. If we find problems during a tune-up, we'll recommend ways to correct them. Attending to small problems promptly keeps them from turning into expensive problems later. Most importantly, we make sure your unit is safe to operate.
We've been family-owned and operated since 1927 and our staff operates according to a strict code of ethics. Our mission is to provide every client with the highest quality of customer care. We always work to make a positive difference in the lives of home and business owners throughout our community. We offer 24-hour emergency services, upfront pricing, extensive warranty options, and a 100% customer satisfaction guarantee. Whether you need a heating repair, a new installation, or a tune-up, call Bruno Plumbing & Heating. Our motto is, "Repaired right today, or you don't pay®."
FAMILY-OWNED AND OPERATED SINCE 1927